Mindfulness Characters
This is a great place to get a custom Mindfulness Calligraphy Wall Scroll!
class=ch>
Mindfulness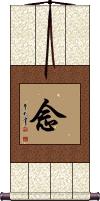 念 is the simplest way to write "mindfulness" in Chinese, Japanese Kanji, and old Korean Hanja.

念 can be defined these ways: To read; to study (a degree course); to read aloud; to miss somebody (keeping them in your mind); idea; remembrance; sense; thought; feeling; desire; concern; attention; recollection; memory; to think on/about; reflect; repeat, intone; a moment.

Obviously, the context in which the character is used determines which definition or meaning is perceived. As a single character, it's open and perhaps ambiguous. Thus, it can be read with any or all of these meanings.

念 is used in a Buddhist context (often written as 正念 or "right mindfulness") with similar meanings of thought and contemplation.

In Japanese, this character is sometimes used as a name "Nen".
---
See Also: Buddhism | Enlightenment

class=ch>
7. Right Mindfulness / Right Memory / Perfect Mindfulness
Samyak Smriti / Samyak Smrti / Samma Sati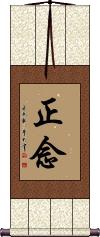 正念 is one of the Noble Eightfold Paths of Buddhism. Right Mindfulness, along with Right Effort and Right Concentration constitute the path to Concentration or Perfect Thought.

Right Mindfulness is about remaining focused on one's body, feelings, mind and mental qualities. It's also about being ardent, aware, and mindful, and supposes that you've already put aside worldly desire and aversion.

Monk Bhikkhu Bodhi described this as: The mind is deliberately kept at the level of bare attention, a detached observation of what is happening within us and around us in the present moment. In the practice of right mindfulness the mind is trained to remain in the present, open, quiet, and alert, contemplating the present event.

Another definition: Ongoing mindfulness of body, feelings, thinking, and objects of thought.
---
This term is exclusively used by devout Buddhists. It is not a common term, and is remains an unknown concept to most Japanese and Chinese people.
---
See Also: Buddhism | Enlightenment | Noble Eightfold Path

class=ch>
Determination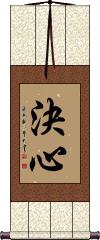 This Chinese, Japanese, and Korean word holds the dictionary definition of "determination" but literally means, "determined heart".

The first character means "to determine" or "determined".

The second character means "heart", "mind" or "soul", so you can imagine that this form of "determination" partially means to put your heart into something. It can also be translated as resolve, resolution, or decision (as in a decision made and followed).
---
See Also: Devotion | Tenacious | Passion | Dedication | Will-Power

class=ch>
Devotion / Dedication / Attentive / Focused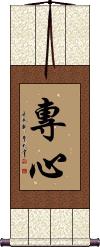 The first character means "for a particular person, occasion, or purpose", "focused on one single thing", "concentrated" and sometimes, "special".

The second character means "heart" or "mind" by itself.

Together, these two characters make a word that means, "paying attention with your heart". It's often translated as, "dedication", as in "be absorbed in" or "concentrate one's efforts". It's also used to mean, "with single mind", "whole-heartedly", "paying attention", "undivided attention", "concentration (-ed)", "engrossed", "devotionally (listening/watching)", and/or "attentive".

My favorite translation, which comes from the Oxford Advanced Chinese/English Dictionary is, "wholehearted devotion".

If it seems like the meaning of this word is quite open, you are correct. The context in which the word is used matters a lot. It can mean different things depending on how you use it. This makes it kind of nice as you can decide what this means to you (within some limits). This word is always positive in meaning, so even if a Chinese person reads it differently than you, it will still have a good meaning.
---

In Japanese, they tend to use a variation of the second character which has one less stroke. If you want your calligraphy written this Japanese form, please click on the Kanji shown to the right instead of the button above. Note: Japanese and Chinese people will recognize either form.
---
class=ch>
Heart / Mind / Spirit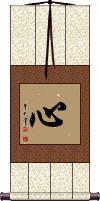 心 would often be translated as "heart".

However, because it was believed in Chinese culture thousands of years that your consciousness and thoughts came from the big red organ in the middle of your chest, it also means "mind" or "spirit" and sometimes even "soul".

In Korean, beyond heart, mind, and spirit, this character can mean moral, nature, mind, affections, intentions, core, and center. In fact, it is used in Chinese to mean "center" as well but only with another character in front of it. For instance, "medical center" or even "shopping center". Separately and alone, it will not be read with that "center" meaning unless thought of as "the center of your soul".