Custom Hard-Working / Industrious Chinese & Japanese Calligraphy Wall Scroll
We have many options to create artwork with Hard-Working / Industrious characters on a wall scroll or portrait.
If you want to create an Hard-Working / Industrious Asian character tattoo, you can purchase that here: Asian / Chinese / Japanese Tattoo Image Service ...and we'll give you many tattoo image templates of the ancient Asian symbols that express the idea of Hard-Working / Industrious.
---
---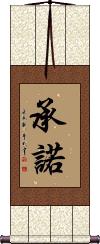 承諾 embodies the idea commitment, but also means to make a big effort or undertaking a great task.

Commitment is caring deeply about something or someone. It is deciding carefully what you want to do, and then giving it 100%, holding nothing back. You give your all to a friendship, a task, or something you believe in. You finish what you start. You keep your promises.

In Chinese, this word directly means to undertake something or to make a promise to do something.

Outside of the commitment idea, this particular word can also mean approval, acceptance, consent, assent, acquiescence, or agreement depending on context (especially in Japanese and Korean). Therefore, this word is probably best if your audience is Chinese.
---
See Also: Partnership | Dedication

勤勉 can be translated as diligence, industrious, assiduity, assiduous, diligent, or sedulity.

Diligence is working hard and doing your absolute best. You take special care by doing things step by step. Diligence helps you to get things done with excellence and enthusiasm. Diligence leads to success.


---
See Also: Tenacity | Commitment | Passion for a Cause
Use Hard Work to Overcome Adversity

刻苦 is "hard work" in Chinese characters, Japanese Kanji and old Korean Hanja.

If working hard is important to you, maybe this word will state your belief on your wall (this is not a common title to see on a wall scroll in Asia).
Industrious / Hard Working

Used to refer to someone who puts forth maximum effort and achieves much.

We might call this kind of person a "go-getter" in English.
---
See Also: Dedication | Tenacious | Devotion
Heaven Blesses the Diligent

This can be interpreted a few different ways:
God blesses those who work hard.
It is the way of Heaven to smile on the diligent.
God will reward those that are worthy.
Heaven blesses those who are diligent.

Whichever translation you like, a scroll like this on your wall may serve as a reminder to work hard because your diligence will pay off both in this life and the next.


Note: This can be pronounced in Korean, but it's not a commonly used term.
Rise Up with Thrift and Diligence
The following table may be helpful for those studying Chinese or Japanese...
Title
Characters
Romaji

(Romanized Japanese)

Various forms of Romanized Chinese
Commitment
承諾

---

承诺
shoudaku / shodaku
chéng nuò

---

cheng2 nuo4

---

cheng nuo

---

chengnuo
ch`eng no

---

chengno

---

cheng no
Diligence
勤勉
kinben
qín miǎn / qin2 mian3 / qin mian / qinmian
ch`in mien / chinmien / chin mien
Use Hard Work to Overcome Adversity
刻苦耐勞

---

刻苦耐劳
kè kǔ nài láo

---

ke4 ku3 nai4 lao2

---

ke ku nai lao

---

kekunailao
k`o k`u nai lao

---

kokunailao

---

ko ku nai lao
Hard Work
刻苦
kokku / koku
kè kǔ / ke4 ku3 / ke ku / keku
k`o k`u / koku / ko ku
Industrious
Hard Working
愛崗敬業

---

爱岗敬业
ài gǎng jìng yè

---

ai4 gang3 jing4 ye4

---

ai gang jing ye

---

aigangjingye
ai kang ching yeh

---

aikangchingyeh
Heaven Blesses the Diligent
天道酬勤
tiān dào chóu qín

---

tian1 dao4 chou2 qin2

---

tian dao chou qin

---

tiandaochouqin
t`ien tao ch`ou ch`in

---

tientaochouchin

---

tien tao chou chin
Heaven Rewards Hard Work
皇天不負苦心人

---

皇天不负苦心人
huáng tiān bù fù kǔ xīn rén

---

huang2 tian1 bu4 fu4 ku3 xin1 ren2

---

huang tian bu fu ku xin ren

---

huangtianbufukuxinren
huang t`ien pu fu k`u hsin jen

---

huangtienpufukuhsinjen

---

huang tien pu fu ku hsin jen
Rise Up with Thrift and Diligence
勤儉起家

---

勤俭起家
qín jiǎn qǐ jiā

---

qin2 jian3 qi3 jia1

---

qin jian qi jia

---

qinjianqijia
ch`in chien ch`i chia

---

chinchienchichia

---

chin chien chi chia
Spare No Effort
不遺餘力 / 不遺余力

---

不遗余力
bù yí yú lì

---

bu4 yi2 yu2 li4

---

bu yi yu li

---

buyiyuli
pu i yü li

---

puiyüli
In some entries above you will see that characters have different versions above and below a line.
In these cases, the characters above the line are Traditional Chinese, while the ones below are Simplified Chinese.
All of our calligraphy wall scrolls are handmade.
When the calligrapher finishes creating your artwork, it is taken to my art mounting workshop in Beijing where a wall scroll is made by hand from a combination of silk, rice paper, and wood.
After we create your wall scroll, it takes at least two weeks for air mail delivery from Beijing to you.
Allow a few weeks for delivery. Rush service speeds it up by a week or two for $10!
When you select your calligraphy, you'll be taken to another page where you can choose various custom options.