Custom Diligence Chinese & Japanese Calligraphy Wall Scroll
We have many options to create artwork with Diligence characters on a wall scroll or portrait.
If you want to create a cool Diligence wall scroll, this is the place. Below you will find a few Asian symbols that express the idea of diligence.
---
---
Devotion / Diligence / Vigorous / Energetic
vīrya
精進 is a wide-ranging word that is used in Chinese, Japanese, and Korean.

It can mean devotion, diligence, concentration, aggressive, enterprising, vigorous, energetic, purification, pushing, asceticism, assiduity, or virility. 精進 is deep, and these two characters can express ideas that take a full English phrase to describe such as, "concentration of mind", "to forge ahead vigorously", or "to dedicate oneself to progress".

Used in the context of Buddhism, it means, "making earnest efforts to cultivate virtue and get rid of evil", or "zeal in one's quest for enlightenment".

勤勉 can be translated as diligence, industrious, assiduity, assiduous, diligent, or sedulity.

Diligence is working hard and doing your absolute best. You take special care by doing things step by step. Diligence helps you to get things done with excellence and enthusiasm. Diligence leads to success.


---
See Also: Hard Work | Tenacity | Commitment | Passion for a Cause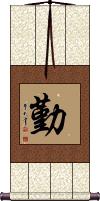 This single-character means diligence or "sense of duty" in Chinese and Korean (also understood in Japanese but not commonly-seen as a stand-alone Kanji).

As a single character on a wall scroll, this will only be seen with this meaning. However, it can also mean industrious, hardworking, frequent, regular, constant, energy, zeal, fortitude, or virility.

In Buddhism this can represent vīrya (viriya), the idea of energy, diligence, enthusiasm, or effort. It can be defined as an attitude of gladly engaging in wholesome activities, and it functions to cause one to accomplish wholesome or virtuous actions. Some Buddhists may even define this as "manliness" (a definition from a hundred years ago, before equality).

If you, or someone you know is a hard-worker (or needs a reminder to be diligent), then this is the wall scroll to have in your/their office.
---
The Five Principles of Reiki
kyou da ke wa oko ru na shin pai su na kan sha shi te gyou wo ha ke me hito ni shin setsu ni

These are the five principles of Reiki.

They translate into English as...

At least for today:
Do not be angry,
Do not worry,
Be grateful,
Work with diligence,
Be kind to people.
---
Note: Because this selection contains some special Japanese Hiragana characters, it should be written by a Japanese calligrapher.
Heaven Blesses the Diligent

This can be interpreted a few different ways:
God blesses those who work hard.
It is the way of Heaven to smile on the diligent.
God will reward those that are worthy.
Heaven blesses those who are diligent.

Whichever translation you like, a scroll like this on your wall may serve as a reminder to work hard because your diligence will pay off both in this life and the next.


Note: This can be pronounced in Korean, but it's not a commonly used term.
Rise Up with Thrift and Diligence
The following table may be helpful for those studying Chinese or Japanese...
Title
Characters
Romaji

(Romanized Japanese)

Various forms of Romanized Chinese
Devotion
Diligence
Vigorous
Energetic
精進

---

精进
shoujin / shojin
jīng jìn / jing1 jin4 / jing jin / jingjin
ching chin / chingchin
Diligence
勤勉
kinben
qín miǎn / qin2 mian3 / qin mian / qinmian
ch`in mien / chinmien / chin mien
Diligence
勤
kin
qín / qin2 / qin
ch`in / chin
The Five Principles of Reiki
今日丈けは怒るな心配すな感謝して業をはけめ人に親切に
kyou da ke wa oko ru na shin pai su na kan sha shi te gyou wo ha ke me hito ni shin setsu ni

---

kyo da ke wa oko ru na shin pai su na kan sha shi te gyo wo ha ke me hito ni shin setsu ni
Heaven Blesses the Diligent
天道酬勤
tiān dào chóu qín

---

tian1 dao4 chou2 qin2

---

tian dao chou qin

---

tiandaochouqin
t`ien tao ch`ou ch`in

---

tientaochouchin

---

tien tao chou chin
Rise Up with Thrift and Diligence
勤儉起家

---

勤俭起家
qín jiǎn qǐ jiā

---

qin2 jian3 qi3 jia1

---

qin jian qi jia

---

qinjianqijia
ch`in chien ch`i chia

---

chinchienchichia

---

chin chien chi chia
In some entries above you will see that characters have different versions above and below a line.
In these cases, the characters above the line are Traditional Chinese, while the ones below are Simplified Chinese.
All of our calligraphy wall scrolls are handmade.
When the calligrapher finishes creating your artwork, it is taken to my art mounting workshop in Beijing where a wall scroll is made by hand from a combination of silk, rice paper, and wood.
After we create your wall scroll, it takes at least two weeks for air mail delivery from Beijing to you.
Allow a few weeks for delivery. Rush service speeds it up by a week or two for $10!
When you select your calligraphy, you'll be taken to another page where you can choose various custom options.
Diligence China: Due Diligence for Chinese business partners, consultants, service providers.
Due Diligence for China consultants, service providers and partners ... Part 8: Local Chinese Service Firms ... born in China was Chinese and someone born in...
China Partners, Consultants, Service Providers you can trust. China Due Diligence.
...value added service providers that can help you enter the Chinese market.
... starting point for you to do the due diligence on your Chinese business partners.
Due Diligence For Chinese Joint Ventures
Due diligence is an absolute must if you plan to team up with a Chinese partner.
... Due diligence is not a particularly prevalent practice among the Chinese and...
Chinese Law | China: Due Diligence Practice
Lehman, Lee & Xu - Large law firm, whose head office is in Beijing.
... due diligence reports and collecting intelligence about Chinese domestic...
DC Consult Services
Most Chinese companies have close ties to the government and often use these ... deceiving Chinese business environment to conduct closed-book due diligence "the...
QA Systems-Chinese Translation,Chinese Localization-Oriental Diligence Translation(Beijing, Shanghai,Guangzhou),...
Why does Oriental Diligence keep such a big in-house team? ... How can I review Chinese characters on my PC without changing my OS?...
Horizontal Scrolls - Calligraphy Wall Scrolls
...category includes beautiful Chinese poems and proverbs ... This Chinese proverb calligraphy symbols painting offers " ... Diligence Horizontal...
Chinese Art Gallery - Wall Scroll Paintings and Calligraphy
A Chinese art gallery offering wall scroll paintings, Chinese calligraphy symbol ... meaning "with diligence you will get the most from your work.
diligence
...diligence ... Chinese New Year. 2007 Calendar. Infoplease Tools. Calculator. Place Finder. Distance ... See also: diligence (Thesaurus) Related Content. Daily Word...
Chinese Law | China: Why is due diligence needed?
Lehman, Lee & Xu - Large law firm, whose head office is in Beijing.
... The due diligence process can help identify the regulatory and taxation...