Custom Partnership Chinese & Japanese Calligraphy Wall Scroll
We have many options to create artwork with Partnership characters on a wall scroll or portrait.
If you want to create a cool Partnership wall scroll, this is the place. Below you will find a few Asian symbols that express the idea of partnership.
---
---

This Chinese, Japanese, and old Korean word expresses the kind of partnership in which a good marriage is founded.

伴侶 could also be translated as mates or companionship, or as a noun, to refer to a partner or companion.

This does not have to include a marriage but at least refers to a partnership with a deep relationship or bond.
---
Note that this is not the same as a business partner. Different words are used for various types business partnerships.
---
See Also: Friendship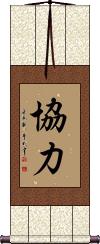 協力 is a Japanese word that means cooperation.

If you look at the second character, which means "strength" or "power", and then you look at the first character, you will see that the first character seems to represent multiple "strengths" together. Thus, you can visually see the meaning of this word as "stronger when working together". The combination of characters that form this word is commonly seen in Japanese Kanji and Korean Hanja but not used in China (however, a Chinese person could probably guess the meaning, and it can be pronounced in Chinese).

It is implied that you are cooperating to create some project or product.

This can also be translated as "joint effort".
Cooperation / Collaboration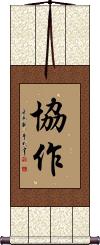 協作 is a Chinese, Japanese, and old Korean word that means cooperation or collaboration.

Cooperation is working together and sharing the load. When we cooperate, we join with others to do things that cannot be done alone. We are willing to follow the rules which keep everyone safe and happy. Together we can accomplish great things.

The first character means "united" or "to coordinate". The second character means "to do", "to make", or "to compose". Knowing this, you can understand why together, these characters create a word that can be defined as "cooperation" in Chinese, Japanese, and Korean.

It is implied that you are cooperating to create some project or product.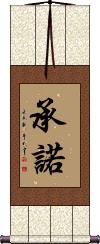 承諾 embodies the idea commitment, but also means to make a big effort or undertaking a great task.

Commitment is caring deeply about something or someone. It is deciding carefully what you want to do, and then giving it 100%, holding nothing back. You give your all to a friendship, a task, or something you believe in. You finish what you start. You keep your promises.

In Chinese, this word directly means to undertake something or to make a promise to do something.

Outside of the commitment idea, this particular word can also mean approval, acceptance, consent, assent, acquiescence, or agreement depending on context (especially in Japanese and Korean). Therefore, this word is probably best if your audience is Chinese.
---
See Also: Hard Work | Dedication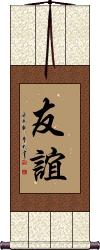 Can also be defined as companionship or fellowship.

友誼 is common in Chinese and Korean Hanja but seldom used in Japanese anymore.
---
See Also: Friendliness
Wedding / Getting Married

These two characters create a word that means wedding, or getting married.

In some context, it can just be read as "marriage".
---
See Also: Double Happiness | Partnership: Marriage
The following table may be helpful for those studying Chinese or Japanese...
Title
Characters
Romaji

(Romanized Japanese)

Various forms of Romanized Chinese
Partnership: Marriage
伴侶

---

伴侣
hanryo
bàn lǚ / ban4 lv3 / ban lv / banlv
pan lü / panlü
Cooperation
協力

---

协力
kyouryoku / kyoryoku
xié lì / xie2 li4 / xie li / xieli
hsieh li / hsiehli
Cooperation
Collaboration
協作

---

协作
kyou saku / kyousaku / kyo saku
xié zuò / xie2 zuo4 / xie zuo / xiezuo
hsieh tso / hsiehtso
Commitment
承諾

---

承诺
shoudaku / shodaku
chéng nuò

---

cheng2 nuo4

---

cheng nuo

---

chengnuo
ch`eng no

---

chengno

---

cheng no
Friendship
友誼

---

友谊
yuugi / yugi
yǒu yì / you3 yi4 / you yi / youyi
yu i / yui
Wedding
Getting Married
結婚

---

结婚
kettukon / kekkon

---

kettukon / kekon
jié hūn / jie2 hun1 / jie hun / jiehun
chieh hun / chiehhun
In some entries above you will see that characters have different versions above and below a line.
In these cases, the characters above the line are Traditional Chinese, while the ones below are Simplified Chinese.
All of our calligraphy wall scrolls are handmade.
When the calligrapher finishes creating your artwork, it is taken to my art mounting workshop in Beijing where a wall scroll is made by hand from a combination of silk, rice paper, and wood.
After we create your wall scroll, it takes at least two weeks for air mail delivery from Beijing to you.
Allow a few weeks for delivery. Rush service speeds it up by a week or two for $10!
When you select your calligraphy, you'll be taken to another page where you can choose various custom options.