Buy a Custom Live For Today Chinese or Japanese Calligraphy Wall Scroll
We have many options to create artwork with the Chinese characters / Asian symbols / Japanese Kanji for Live For Today on a wall scroll or portrait.
If you want to create a cool Live For Today wall scroll, this is the place. Below you will find a few Asian symbols that express the idea of Live For Today.
---
---

活在今天 is not really an eastern concept, so it does not translate into a phrase that seems natural on a wall scroll.

However, if this is your philosophy, the characters shown here do capture your idea of living for today or living in the moment. 活在今天 literally say "Live in today" and they are grammatically correct in Chinese.
---
Note: This kind of makes sense in Korean Hanja but the grammar is Chinese, so it's not that natural in Korean.
Carpe Diem / Seize the Day
Live For The Day / Seize The Day

今を生きる is a Japanese phrase that can be translated as "live for the day", "live for the moment", "seize the day", or "make the most of the present".

You can think of this as the Japanese version of "Carpe Diem".
---
Note: Because this selection contains some special Japanese Hiragana characters, it should be written by a Japanese calligrapher.
Live In The Moment / Live In The Now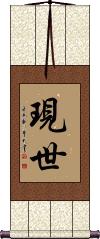 現世 is a very short way to write "live in the moment" or "live in the now" in Japanese.

This short word is open to interpretation. It's used in Japanese Buddhism to mean "the current epoch" or "the current age" (the current age is but a brief moment in the greater scope of existence). When used in that context, this is pronounced "utsushiyo" or "ustusiyo" in Japanese. Otherwise, it's pronounced "gensei" in Japanese.

Other translation possibilities include:
Live for now
Earthly world
This world
This life

Earthly life
Present life
Present generation
Present incarnation

Current age
This existence
This (momentary) reality

---
Note: This is also a word in Chinese and old Korean Hanja. While the meaning is more or less the same, this is not recommended for a wall scroll if your audience is Chinese or Korean. This selection is best if your audience is Japanese.
The following table may be helpful for those studying Chinese or Japanese...
Title
Characters
Romaji

(Romanized Japanese)

Various forms of Romanized Chinese
Live For The Day
活在今天
huó zài jīn tiān

---

huo2 zai4 jin1 tian1

---

huo zai jin tian

---

huozaijintian
huo tsai chin t`ien

---

huotsaichintien

---

huo tsai chin tien
Carpe Diem
Seize the Day
把握今日
bǎ wò jīn rì

---

ba3 wo4 jin1 ri4

---

ba wo jin ri

---

bawojinri
pa wo chin jih

---

pawochinjih
Live For The Day
Seize The Day
今を生きる
ima wo i ki ru

---

imawoikiru
Live In The Moment
Live In The Now
現世

---

现世
gen sei / gensei
xiàn shì / xian4 shi4 / xian shi / xianshi
hsien shih / hsienshih
Live Without Regret
生而無悔

---

生而无悔
shēng ér wú huǐ

---

sheng1 er2 wu2 hui3

---

sheng er wu hui

---

shengerwuhui
sheng erh wu hui

---

shengerhwuhui
Live Without Regret
人生悔い無し
jinsei kui nashi

---

jinseikuinashi
No Regrets
無悔

---

无悔
mu ke / muke
wú huǐ / wu2 hui3 / wu hui / wuhui
No Regrets
後悔無し
kou kai na shi

---

koukainashi

---

ko kai na shi
In some entries above you will see that characters have different versions above and below a line.
In these cases, the characters above the line are Traditional Chinese, while the ones below are Simplified Chinese.
All of our calligraphy wall scrolls are handmade.
When the calligrapher finishes creating your artwork, it is taken to my art mounting workshop in Beijing where a wall scroll is made by hand from a combination of silk, rice paper, and wood.
After we create your wall scroll, it takes at least two weeks for air mail delivery from Beijing to you.
Allow a few weeks for delivery. Rush service speeds it up by a week or two for $10!
When you select your calligraphy, you'll be taken to another page where you can choose various custom options.